Great Paintings: Renaissance to Impressionism

Price: $ 59.95

"Painting for painting, the Frick Collection is quite simply the greatest in the world. Hardly a single work in this dazzling array of Old Master paintings can be considered less than a masterpiece"

Dr. Peter Sutton, Boston Museum of Fine Arts, Curator of European Paintings
This screen provides detailed information on every work in the collection. Access biographical and historical information with a single command.
The screen at right provides an example of the superb, museum-quality images and the ability to compare paintings side-by-side to study techniques.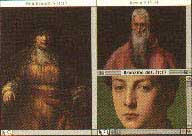 These great paintings have been electronically captured with an accuracy never before possible.

The works of Piero della Francesca, Vermeer, El Greco, Rembrandt, Holbein--masters from the early Renaissance through the nineteenth century--are yours to explore, study and enjoy.
Keywords provide an efficient way to locate images using a comprehensive topic index.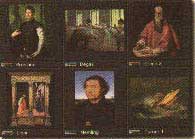 This screen shows the visual index for the collection. Scroll through the paintings asif on a light table.
Clickto enlarge any thumbnail view.