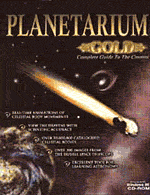 Planetarium
is the premiere package for learning astronomy.
It's user friendly interface includes breathtaking visuals that will introduce the universe to you in a way never possible before.

Planetarium contains accurate information on stars, galaxies, and planets complete with the scientific data and vivid photographs taken by the Hubble Space Telescope.
Price: $ 49.95